Regular price
$156.69 USD
Regular price
Sale price
$156.69 USD
Unit price
per
Sale
Sold out
FAST RESULTS
Get radon results in minutes, not days. See your first reading in 10 minutes, and reliable results in an hour.
HIGHLY ACCURATE 
With the latest sensor technology, the EcoBlu™ delivers industry-leading radon counting sensitivity of 18 counts per hour per pCi/L exceeding the industry minimum required standard.
REAL-TIME LED DISPLAY
A compact device with a full-size LED screen makes real-time and continuous radon monitoring easy to read.
SHORT & LONG-TERM MONITORING
See your current radon level or switch the mode to long-term and check the daily, weekly, monthly, or yearly average radon readings for monitoring over a longer period of time.
EASY-TO-USE
Just plug-and-play. No smartphone, no WiFi, no BLE, no battery - simply monitor your radon levels throughout your home. 
MODERN DESIGN
The simple design allows a palm-sized cube to fit in with any room of your home. A tilted stand makes it easy to check your radon level at a glance.
Share
View full details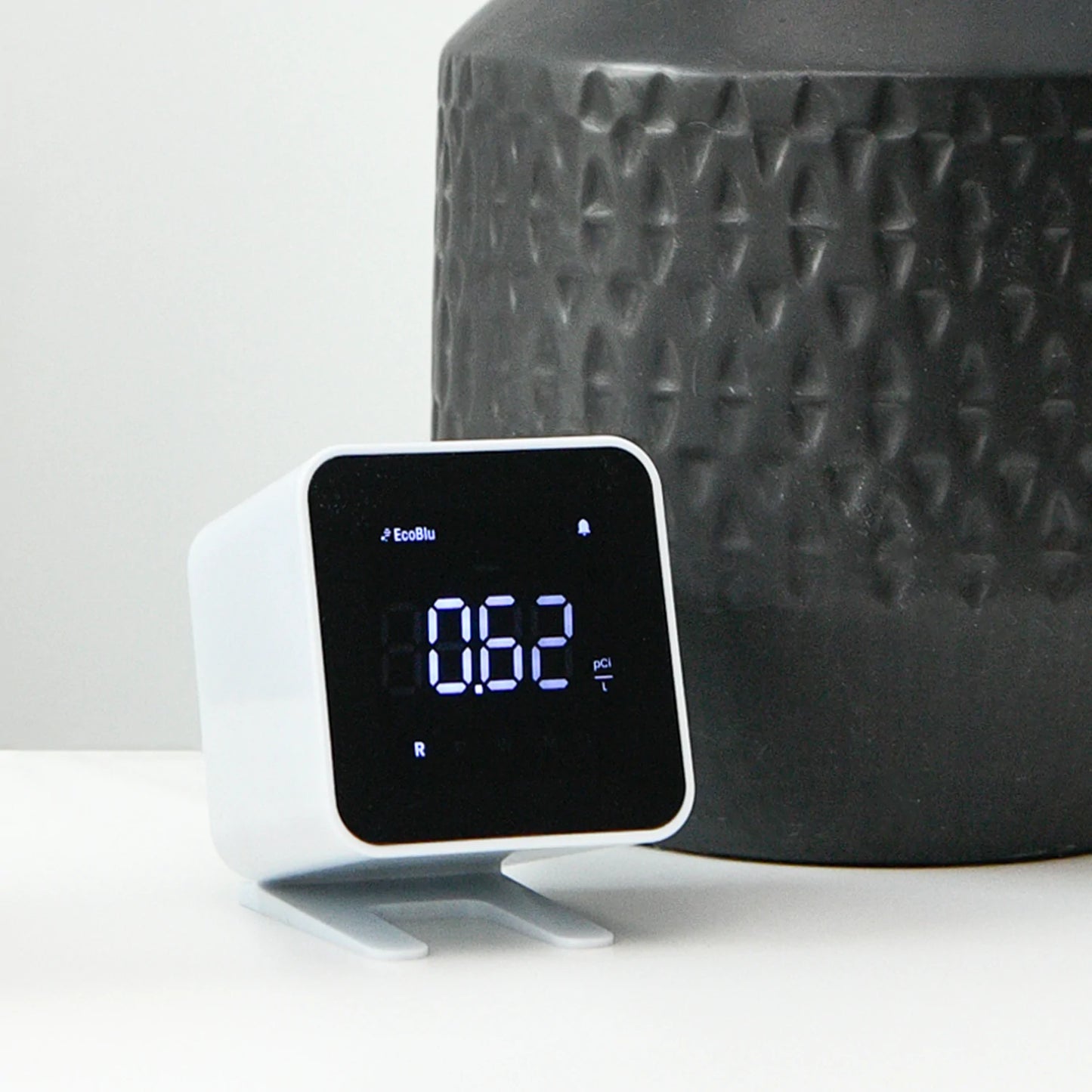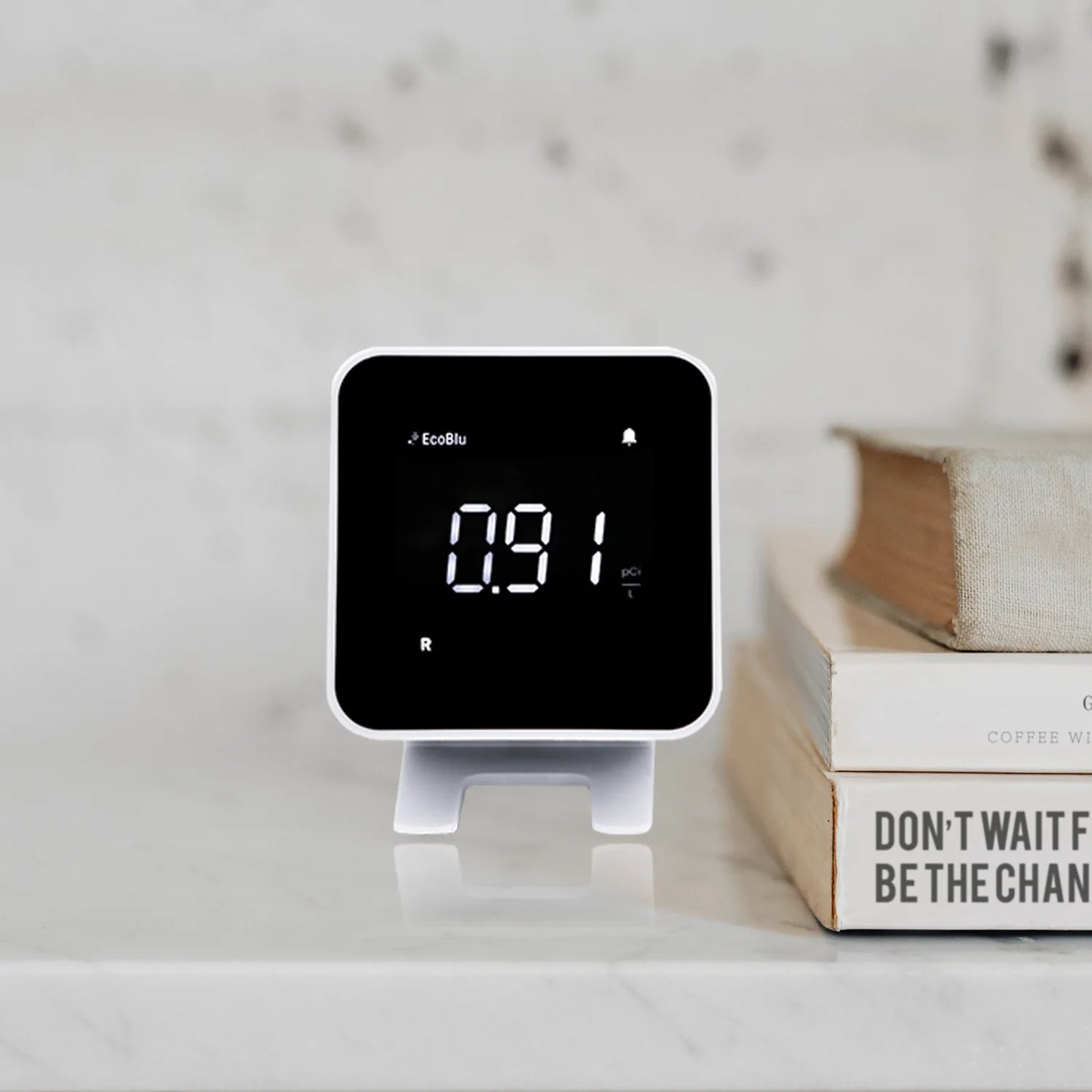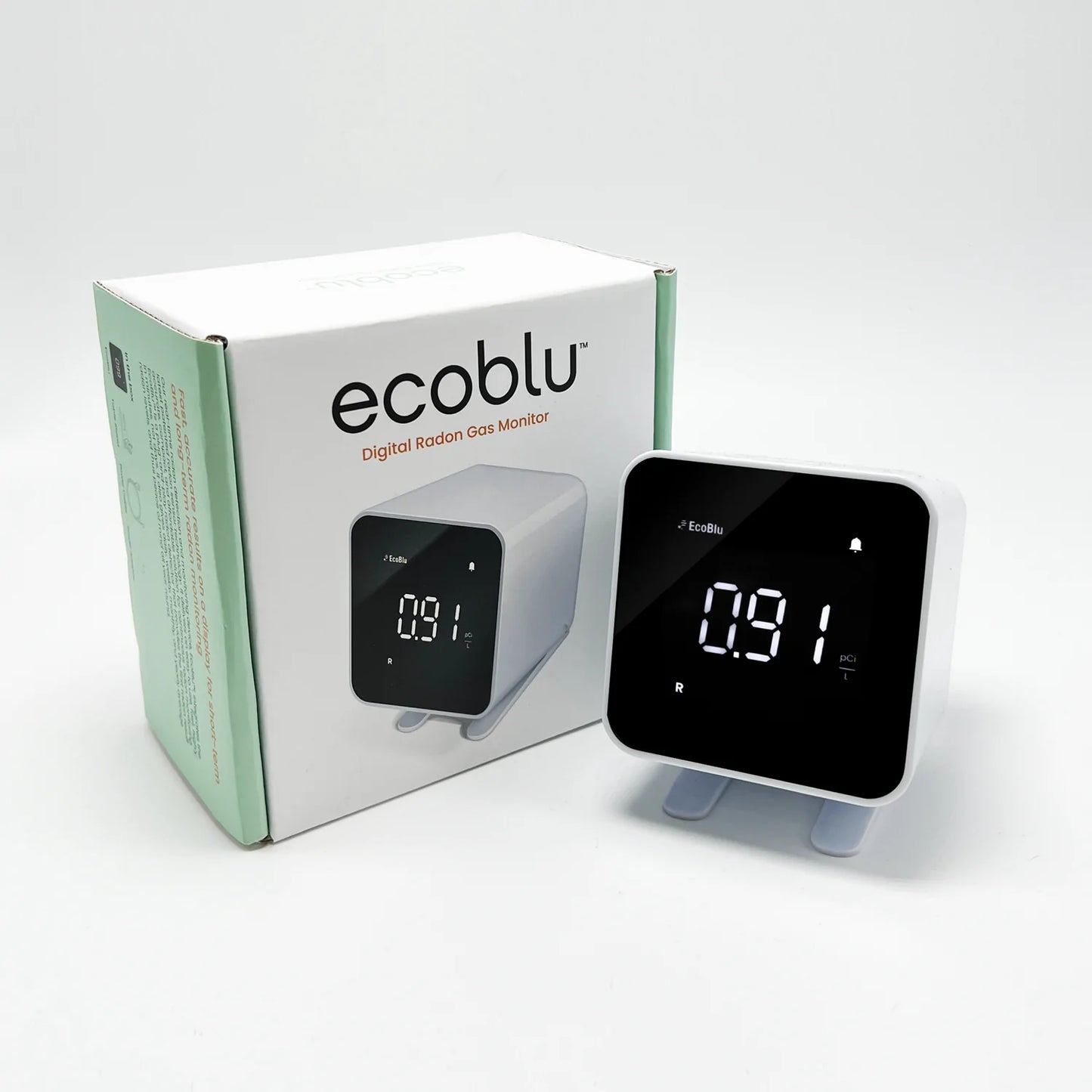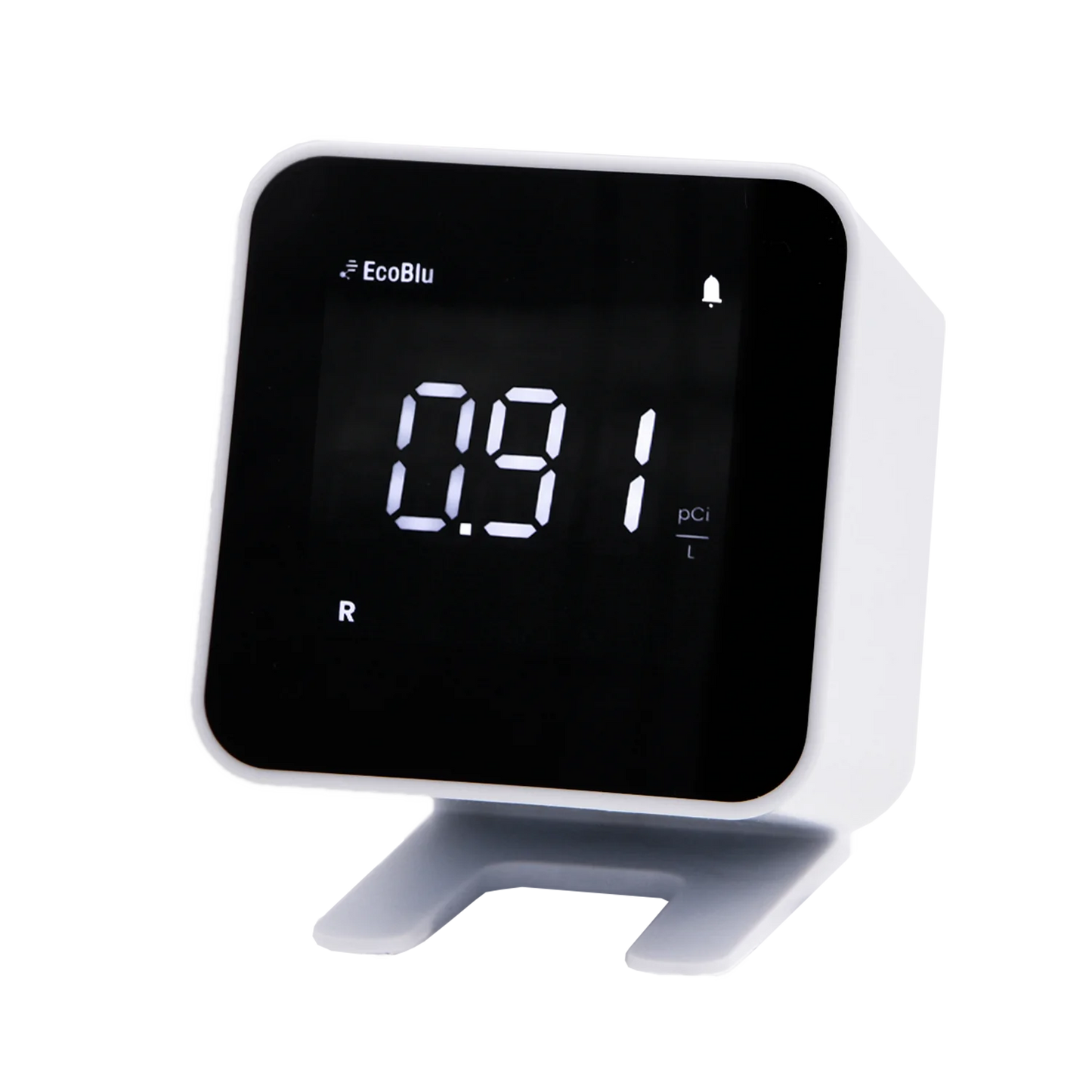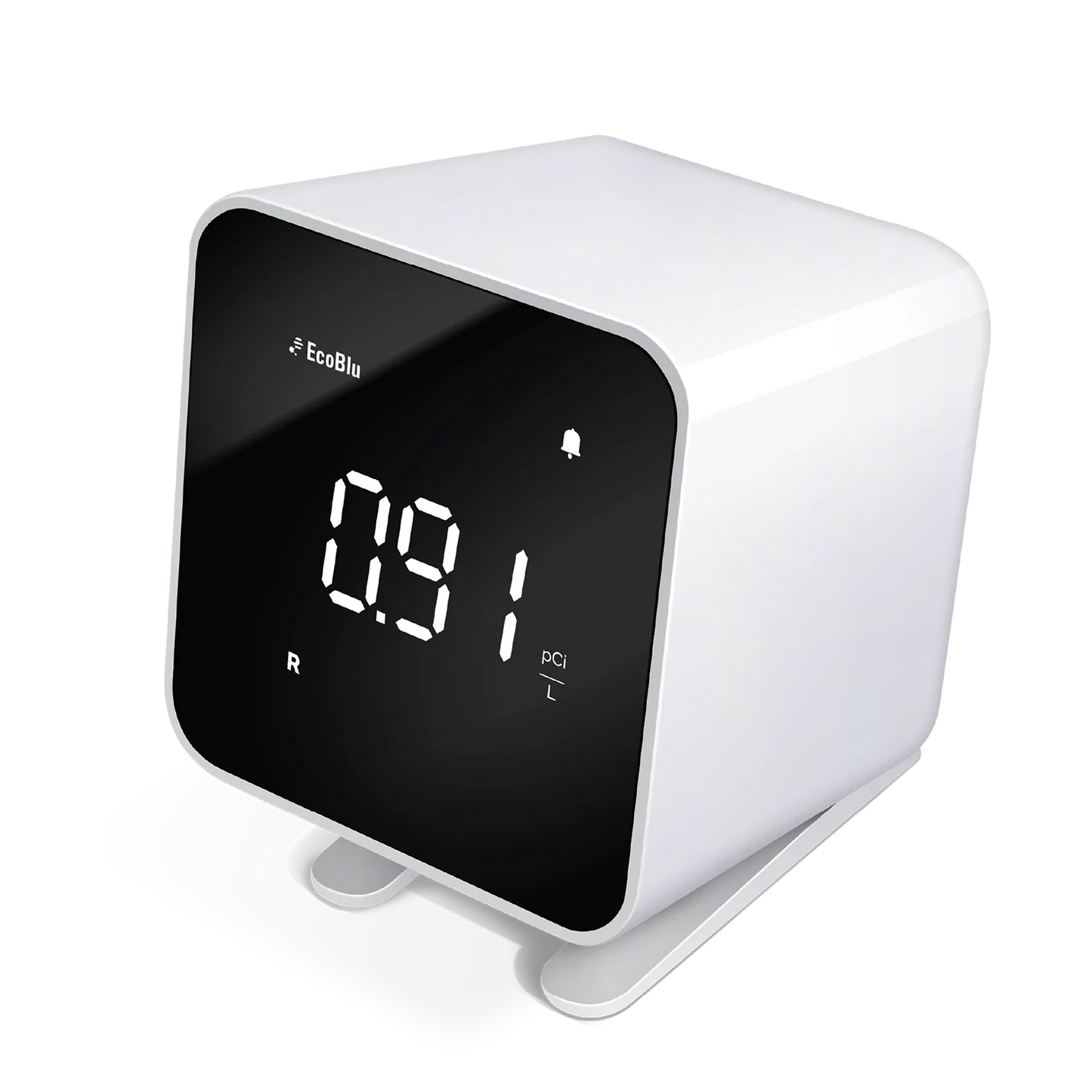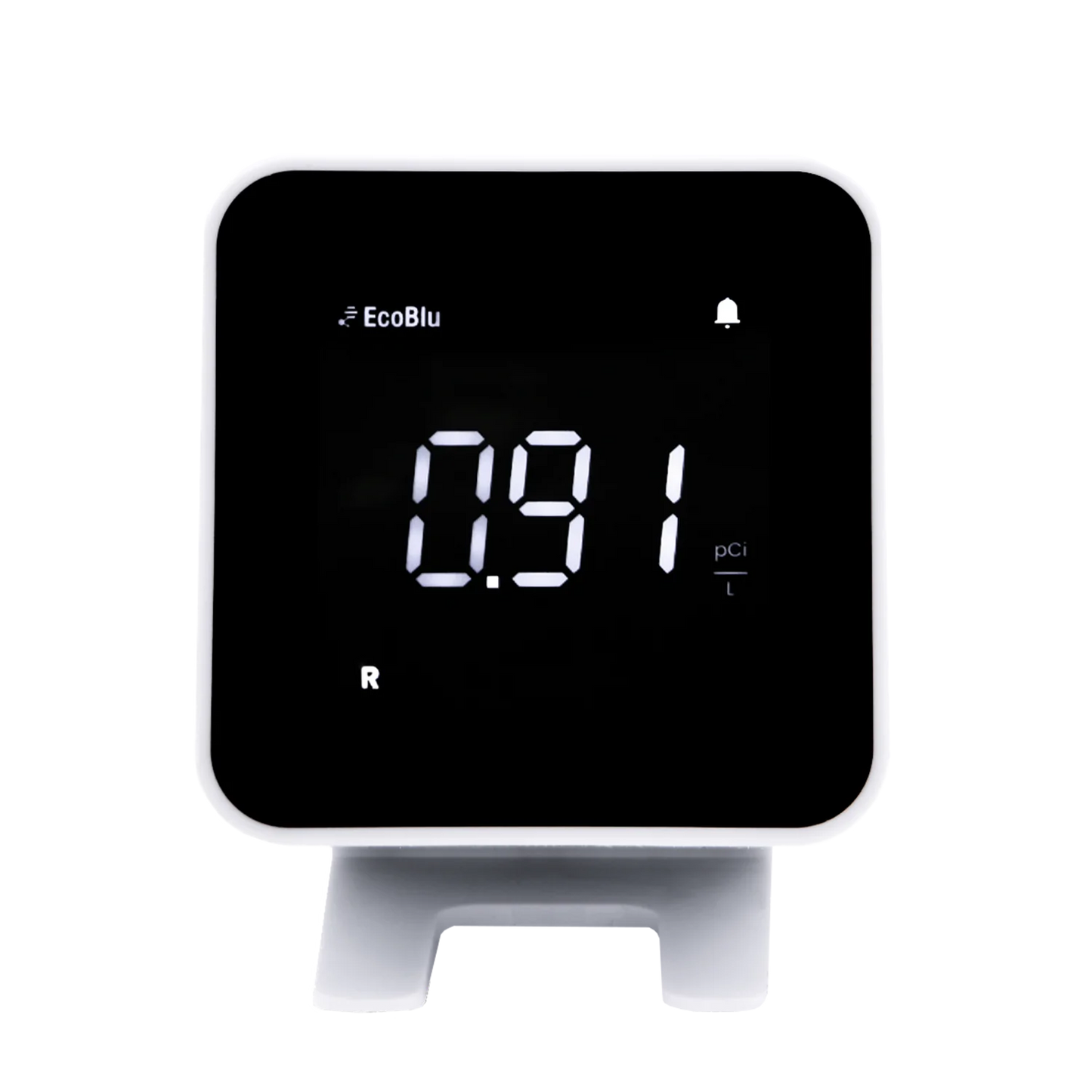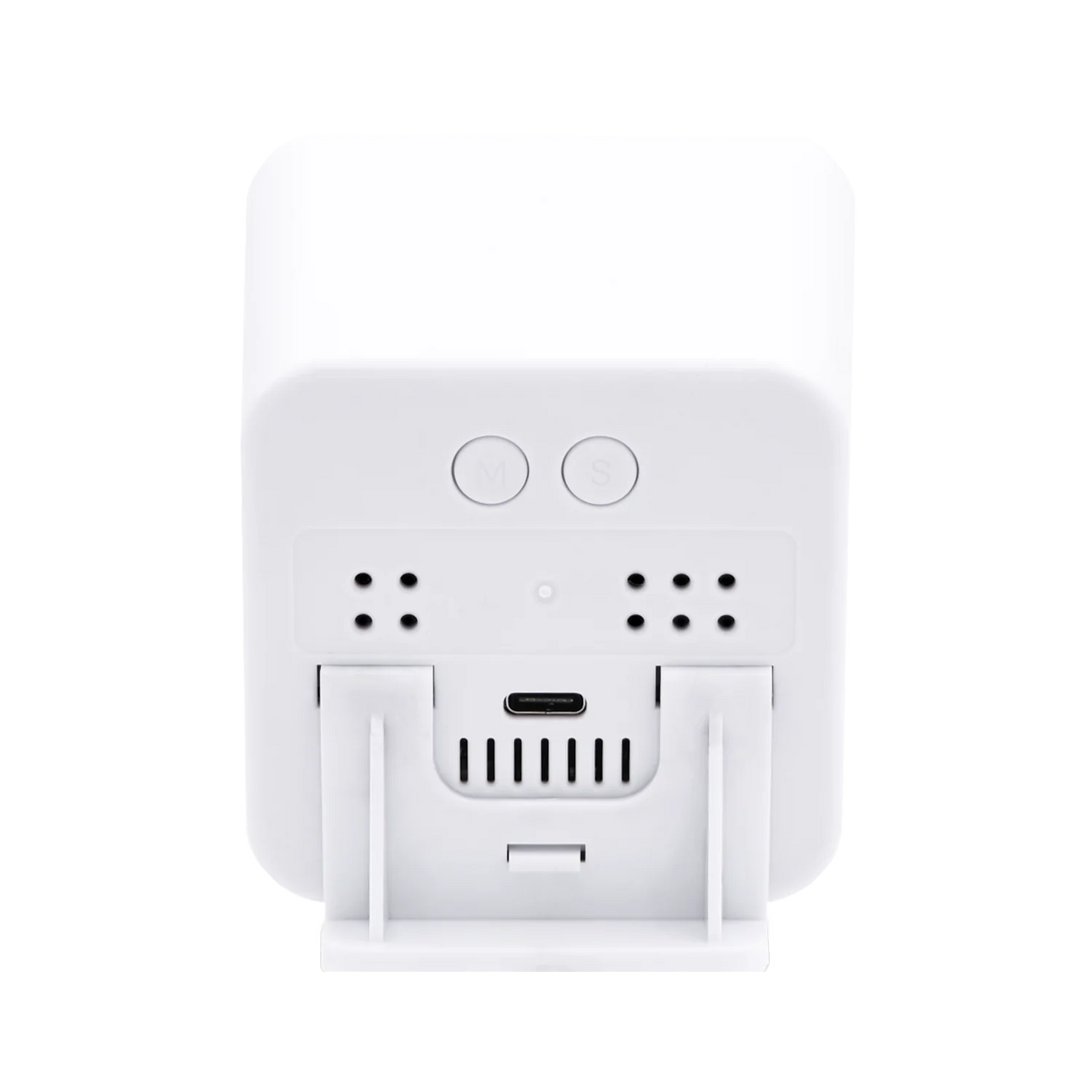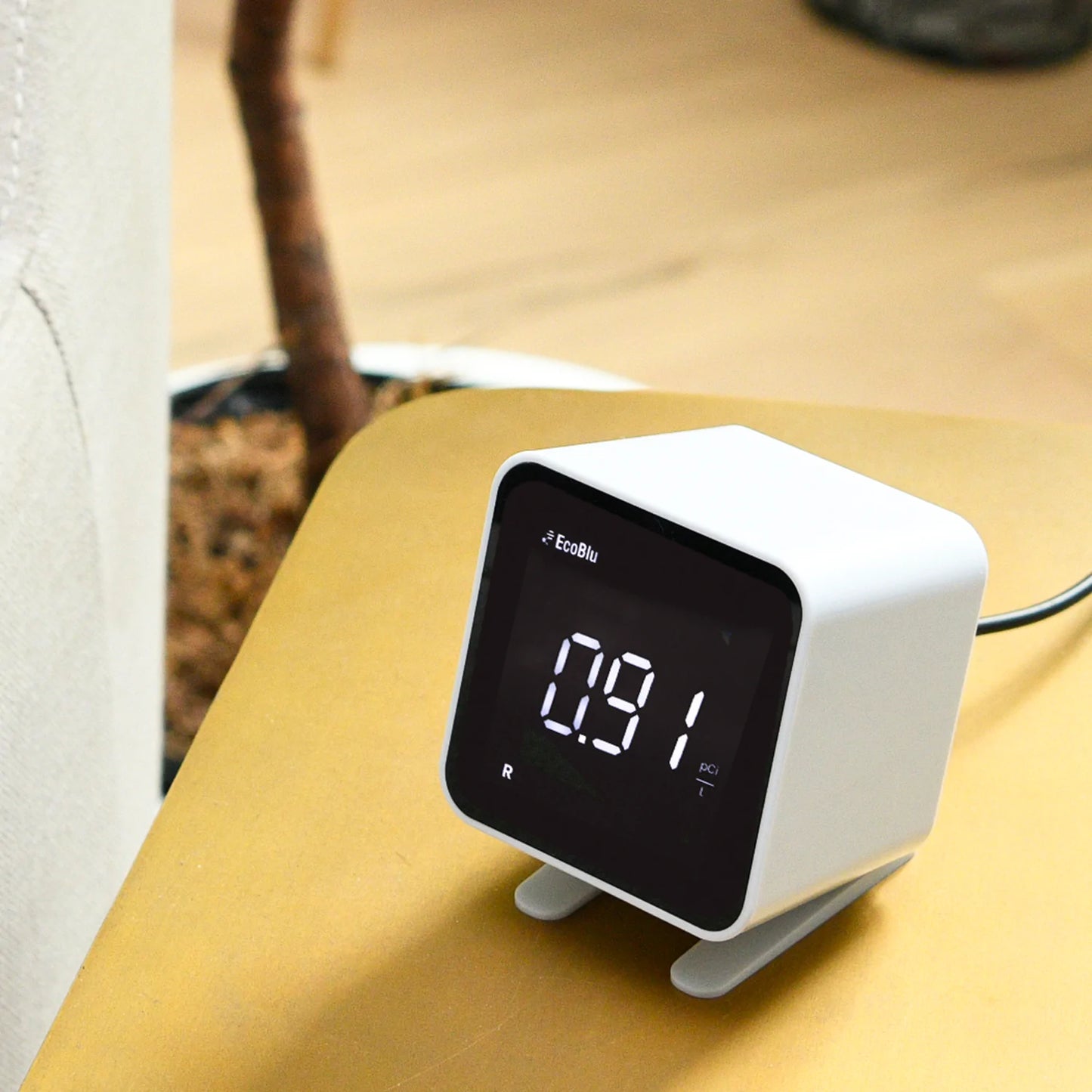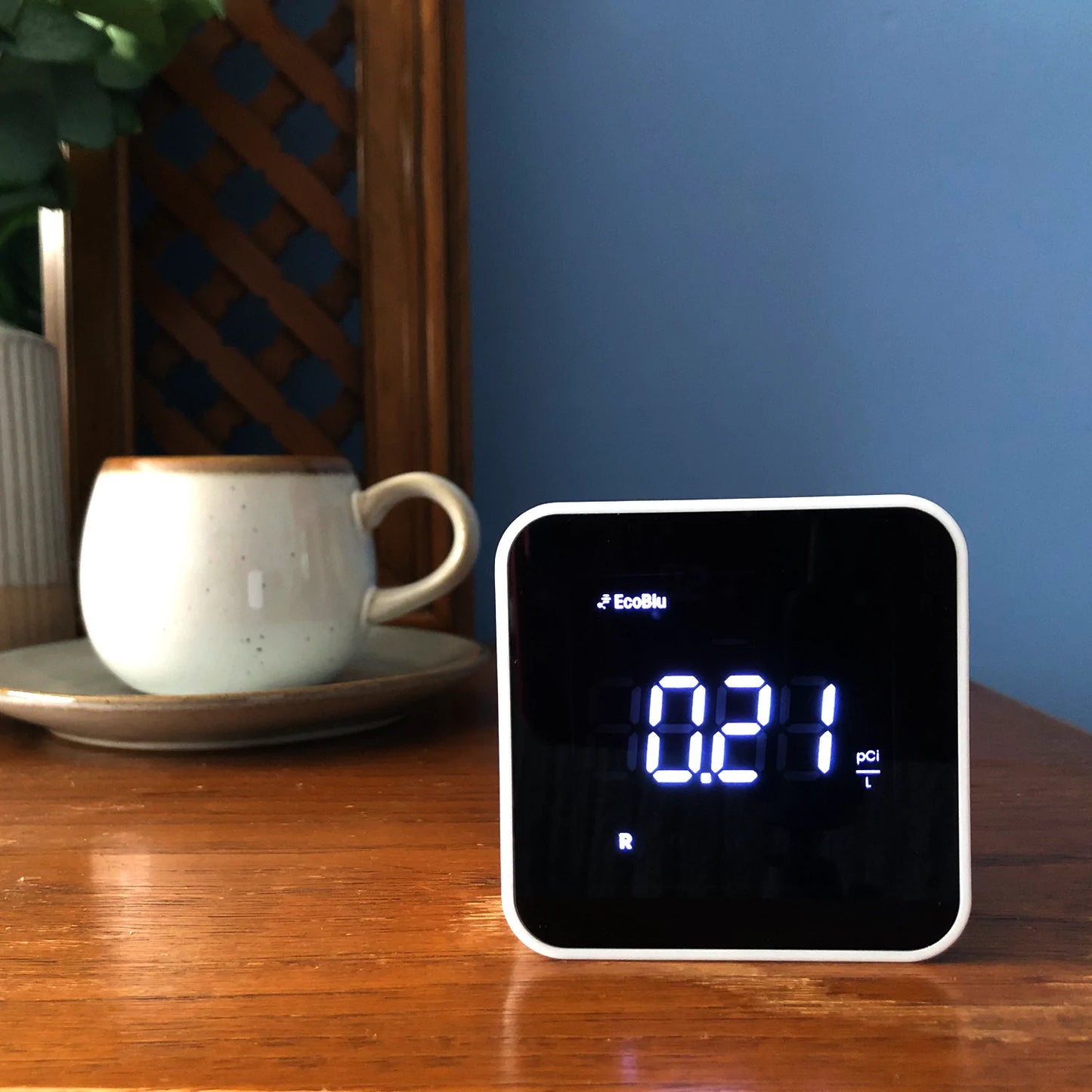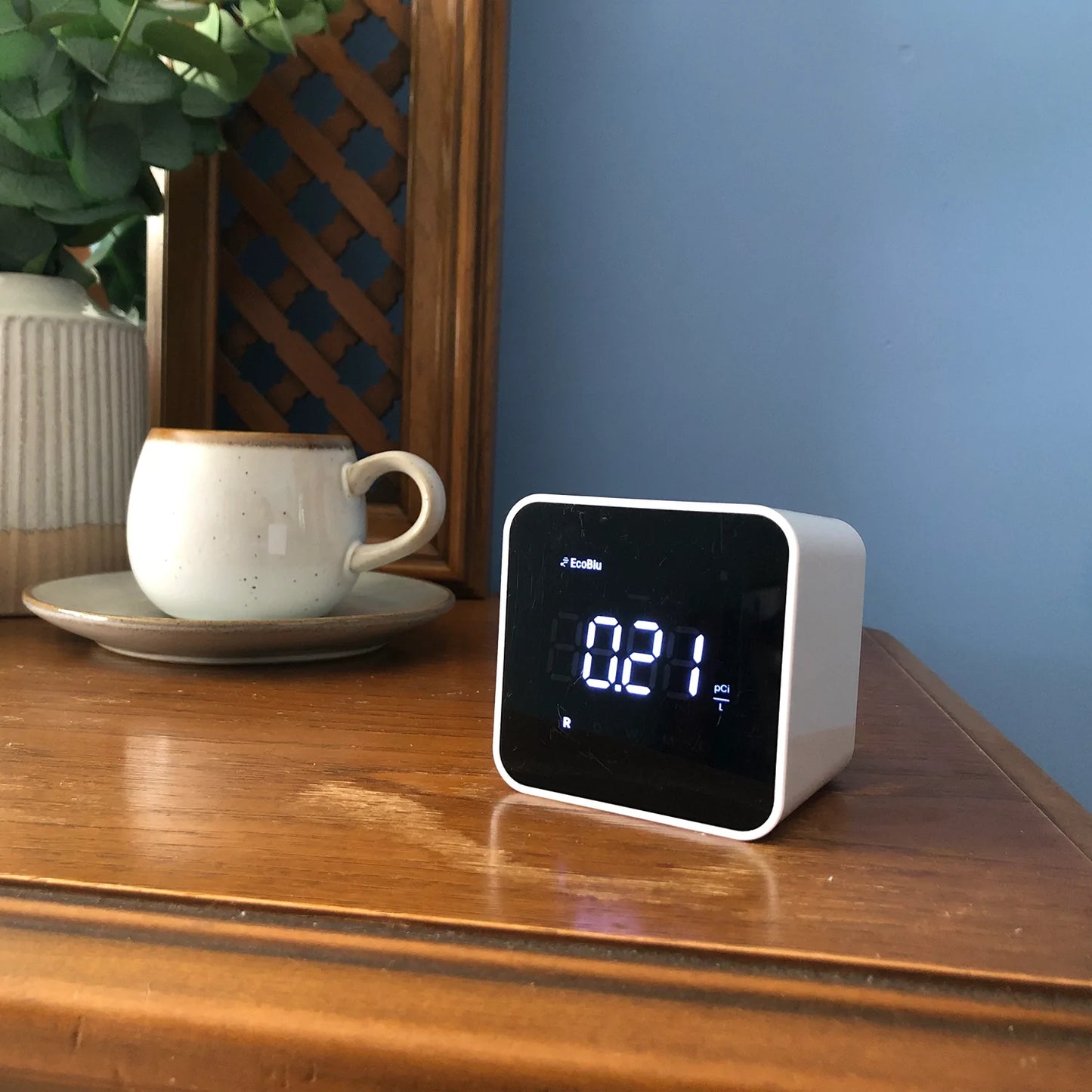 Multicolumn
Details

How do I download the EcoQube app?To get the EcoQube onboarding process started you'll need to download the EcoQube App.EcoQube App is available for iOS (iPhone) and Android (Android based phones). To download following: 
1. iOS App for iPhone can be downloaded from the Apple App Store. Here is link. 

2. Android App for phone can be downloaded from the Google Play Store. Here is link.

What is EcoQube's power supply specification?The EcoQube uses an external power supply adapter which is rated as: 5V 1A DC Adapter

How to add a new device if the QR code cannot be read? Please check and ensure Bluetooth is enabled on your phone. Ensure your phone is within 10 feet of your new device. You can add a new device via Bluetooth, click CONTINUE WITHOUT SCANNING button on QR code scan screen. The app will show a list of devices nearby. If you are not able to see the device(s), please click the refresh button on the top right corner.

My EcoQube cannot connect to Wi-Fi, what should I do?Confirm that you have a 2.4 GHz network. EcoQube only supports 2.4 GHz and does not currently support 5 GHz-only wireless networks. If you have a dual band Wi-Fi router, make sure you have not enabled 5 GHz steering. Make sure your EcoQube device is within your wireless network's range. For example, walls and floors can weaken your router's signal - decreasing its range.

If Wi-Fi searching is taking long time, please click the refresh button on the top right corner. This will restart the Wi-Fi network search and after a short period will display list of available 2.4 GHz Wi-Fi networks. Please select the desired Wi-Fi network from this list.

How can multiple people view EcoQube via EcoQube app?1. You can invite friends and family members to view your EcoQube radon levels by inviting them to use the EcoQube App. The invited members can only view and export the radon data readings, but will not be able to change settings. Only the administrative account that has registered the EcoQube device in the beginning is allowed to change units, notifications and alarms. If you want to change this administrative account, you will need to unregister the EcoQube device from the administrative account or perform a Data Reset and register the device again.

2. See below for instructions on how to invite new users to view your radon data.

Step 1. Open EcoQube App.
Step 2. Tap sub menu in upper right corner.
Step 3. Tap Device users.
Step 4. Tap + button in upper right corner.
Step 5. Enter the email of the guest you'd like to invite to view radon data.
Step 6. Tap Next in upper right corner.
Step 7. Make sure the device you want to invite is selected, then tap Done in the upper right corner.
Step 8. Make sure email address is correct and tap Send invite.

Notifications (Audio alarm and notification)1. To hear the audio alarm, you will need to enable [Audio Alarm] in [Device Configurations] for the EcoQube device. For every 10 minute period, if the measured radon level exceeds the configured threshold (default is 4.0 pCi/L), a beep sound alarm will be heard.

2. To receive push notifications, you will need to enable both [Notifications] in [Settings] and [Audio Alarm] in [Device Configurations] for the EcoQube device. Notification will be triggered when all of the following conditions are met:

a. When radon level exceeds the configured threshold radon level in [Device Configurations].
b. When radon reading is updated every hour after EcoQube uploads its first data.

Where can I buy EcoQube?EcoQube is available for purchase in the US, Canada and Europe.For US, EcoQube is available directly through Ecosense andAmazon websites.
For Canada, please contact Radon Environmental Management Corp athttps://radoncorp.com/For Europe, please contact Radonova athttps://radonova.orgWhat is the return and refund policy?We offer returns and refunds within 30 days of the original purchase date. You will be responsible for paying the postage/shipping fees for returning your device. If the device is determined to be defective, you will receive a full refund, and the return shipping fees will be refunded to you by Ecosense.